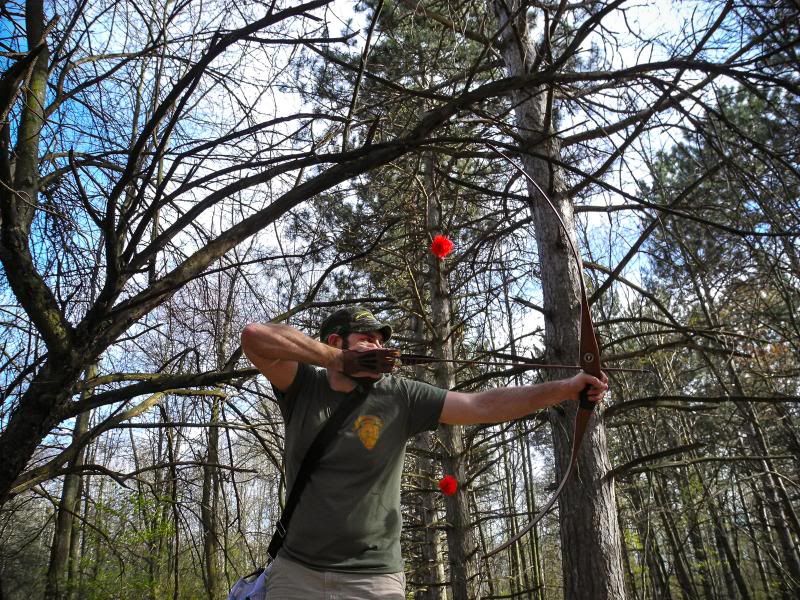 I wrote a post awhile back titled Getting Involved. It was regarding my joining of the Michigan Longbow Association (MLA) and Michigan Traditional Bowhunters (MTB). I thought simply joining these organizations and paying my dues was enough at the time, but for the sake of being truthful to myself, I admit my aspirations were to reap the member benefits. Nothing more. In my defense, I didn't have time for much else. Jessica and I had just moved into a new house to accommodate the birth of our daughter Aubrey. Suddenly I had bills to pay, a kid to raise, and a wife to convince not to kick me out of the house for buying too many longbows.
But time is a fickle thing and as it progressed I found myself suddenly wanting to do more for my archery community. Life certainly wasn't any easier, but it wasn't getting any longer. It was time I started doing things. One day I learned my buddy Thom (Jorgensen) became a council member for the MLA and was having a great time with it.
He recognized how passionate I was about the longbow and bowhunting and thought I would enjoy it as much as he did. He invited me to the MLA Winter Banquet to see what the organization was about and I had a tremendous time there. The cvent commemorated the 30th anniversary of the MLA and there were 150 people in attendance – a sold out show. I was treated as if I'd been there for years. People I'd only met on Facebook or talked to briefly at the Kalamazoo Expo greeted me like and old friend. I was even asked to be a judge in the dessert competition and probably gained at least three pounds doing so.
While at the event I heard several members, including Thom, talk about the Annual Spring Shoot and Membership Meeting in May. It included free shooting, free camping, free food, and it was kid friendly. I was still in "new daddy mode" at the time and used to being confined to the house with the kids, so I shelved any hopes of attending and politely replied, "…maybe next year when the kids are older" whenever asked. Besides, Mackenzie (our latest addition) was much too young for camping and I didn't want to burden my wife with both kids. Then it hit me…why not take Aubrey camping? She was now three and loved sleeping in tents. Hell, she'd had one in her bedroom for the past two years!
The months that followed were a blur. I bought a tent on Craigslist and inherited several other essentials from family and friends who were just as excited for us to camp as I was. Everyone kept telling me how much fun we would have and how easy it would be, but I had my doubts. I hadn't been to a campground in 15 years and when Saturday, May 4th arrived, it brought serious anxiety with it. Not just because I'd be driving across the state to camp with a 3-year-old, but because I put my name in for a seat on the MLA council and would find out if I were elected at the afternoon meeting.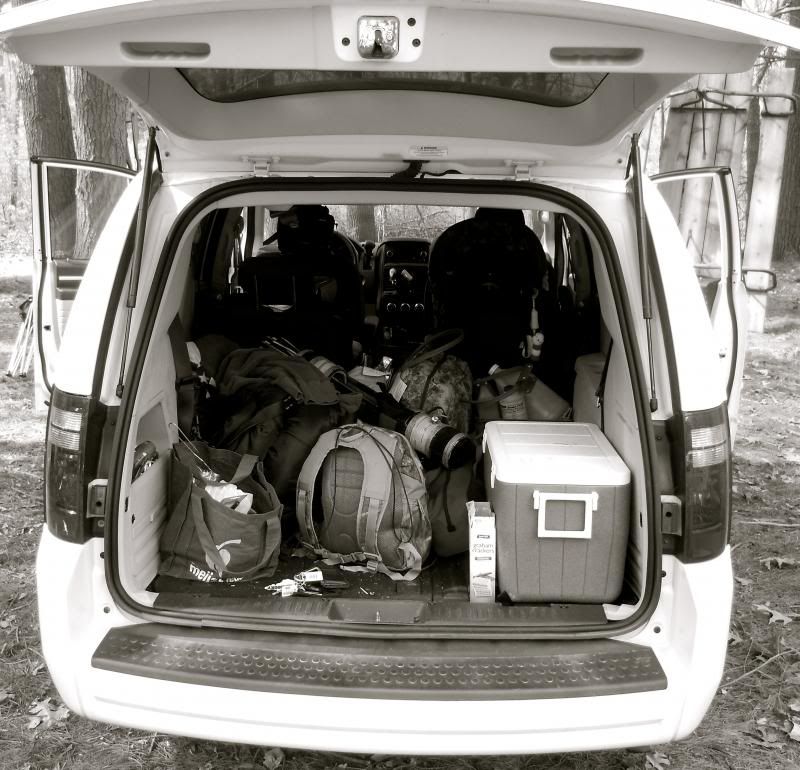 The drive across the state to Fenton was a beautiful one. Aubrey only had to pee a few times, though I suspect the third was just her way of getting out of the car seat for awhile, and I didn't get lost, which is rare for me. Thankfully, the Land o' Lakes sign was easy enough to spot and Aubrey and I were settled into camp with the entire day ahead of us.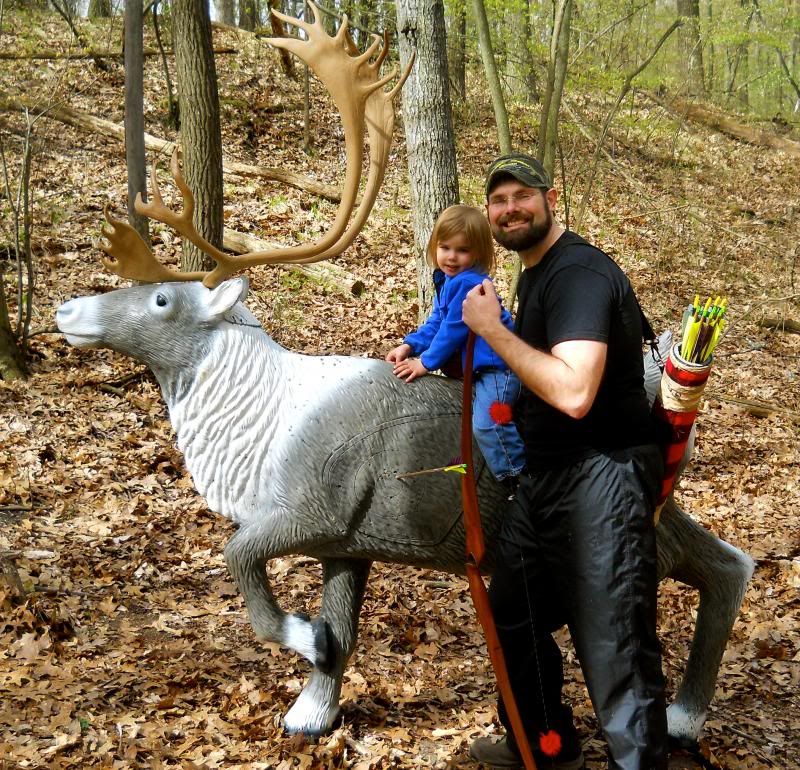 The campground was fairly void of people when we first arrived. A few random members were scurrying about, but most were in the surrounding woods enjoying the 3D courses. With no one around to talk to, I decided to string our bows and shoot a round with Aubrey, which ended up being a whole lot harder than expected, as she had little interest in her brand new St. Joe River bow and found petting and riding on each of the targets far more entertaining than my shooting them.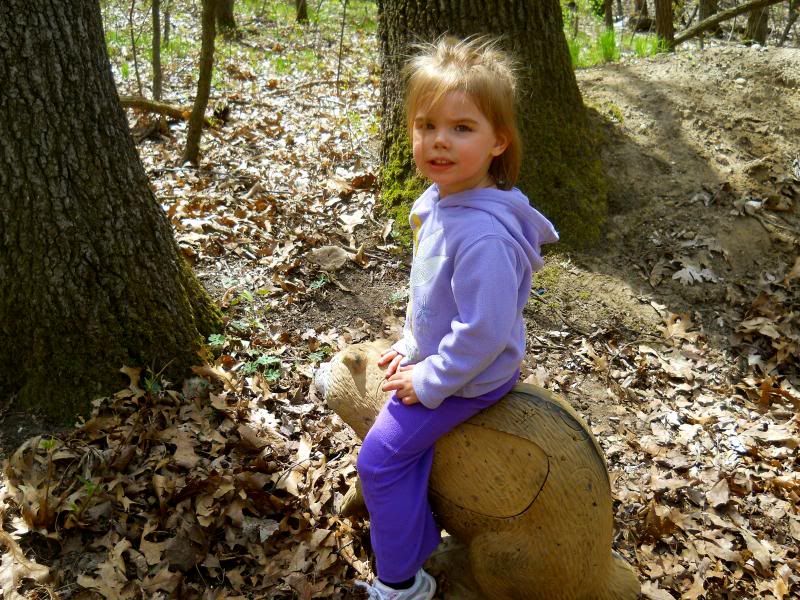 The magic wore off towards the end of the final 15 where she stubbornly sat in the middle of the path with her arms folded and refused to move for several minutes. She was tired of walking and wanted to check out the ancient playground we passed on the way to our campsite. We spent the next hour on the swings and many more after that. Prying her away from that rusty playground ended up being the chore of the weekend. It was the first time I'd ever attended an archery gathering and left feeling sore from something other than shooting.
The meeting was as entertaining as a meeting could be. MLA business was handled in short order and, before I knew it, I was standing in front of a room full of members, making my bid to join the council with Aubrey wrapped around my leg. I was very nervous and I usually do not get nervous when public speaking. I wanted the seat badly. That much was apparent to me and must have been to others too, as I was voted in by meeting's end. Joining my fellow councilman at the head table was a surreal experience. One I will not soon forget. I'm hoping to have a long, successful tenure with the MLA and this was the moment that kicked it all off.
A pinata shoot was organized for the kids following the meeting. The candy-stuffed mache target took quite a beating as flu flu after flu flu pummeled it beyond recognition. It danced wildly as the arrows hit it, spewing colorful wrappers of all varieties to the earth. Aubrey watched in amazement as candy rained on the young bowmen and women and I could tell she wanted to be a part of it. I wasn't sure her little 12# longbow would do the job though. Fortunately, Ken Scollick (MLA Treasurer) and Mike Vines (MLA president) came to our rescue. They waited for the kids to retrieve their arrows, handed me a set of flu flus for Aubrey and told me to bring her to the front for the next volley.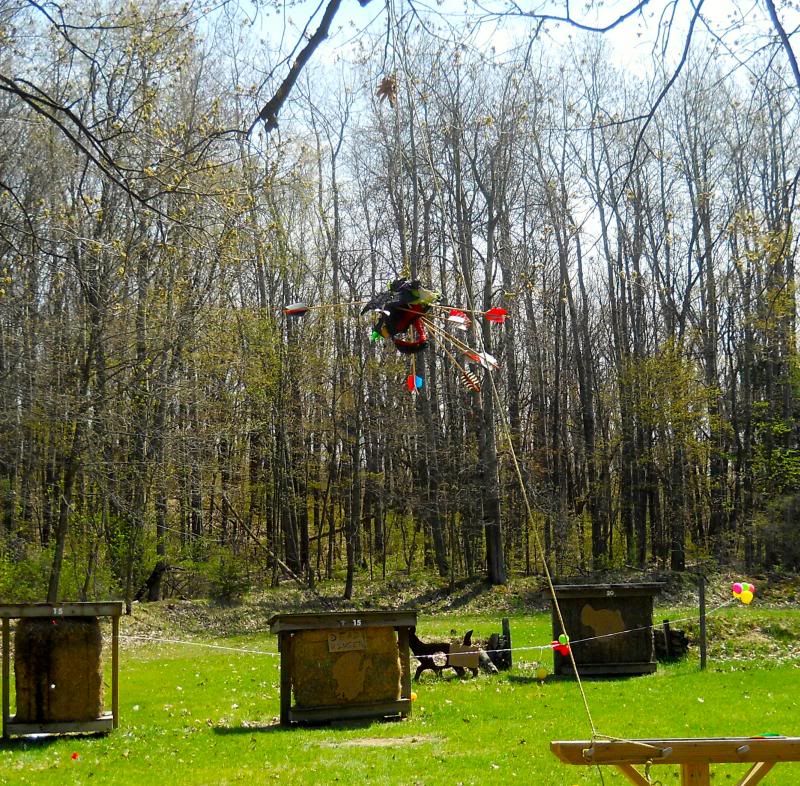 As the kids took their places, Ken told them to stow their bows and let Aubrey try. She needed a lot of help and her arrows still fell short of their mark despite our efforts, but she squealed every time which was well worth the price of admission. For Aubrey the bow and arrow was a means to an end and the end was the candy. There was already plenty of that and she had just as much fun picking it up as she did shooting. It was a trip watching so many kids get excited about bows and arrows and refreshing to see so many adults lending a hand to help them get involved. What an outstanding organization this was. I was already proud to be involved.
Dinner followed along with several campsite visits. Members were making a real effort to introduce themselves and I was trying equally hard to remember all the names and faces I'd absorbed. I decided a second round of 3Ds was required to clear my head and it felt fantastic. The landscape was beautiful; the shots interesting; and I even managed hit a target or two.
Evening finally arrived and I was still foggy from the afternoon's events. I finally got Aubrey to bed following what seemed like 2 or 3 hours worth of playing on the campsite playground and an interesting outhouse catastrophe I'd rather not mention here. Fortunately, my friends Thom and Rob paid me a visit with a beer or two, which was much needed. We talked well into the night, covering everything from our archery beginnings, to hunts we would like to plan, and bows we would like to own. It was the perfect end to an equally perfect, but tiring day.
 I awoke Sunday morning in need of Ibuprofen and caffeine. It cooled substantially overnight and I ended up giving Aubrey the majority of my blankets. I also forgot to bring a pillow and found the only stick we left beneath the tent lodged beneath my lower back. The smell of fresh coffee perculating from Bob Wyman's campsite helped lick my wounds and Bob had a cup in my hand before I had time to get ornery.
While enjoying the morning, Ryan Smit (a member from m neck of the woods) stopped by and introduced me to his sons. The Smit's are from my neck of the woods and offered to pick me up prior to my deciding to make the trip with Aubrey. Ryan is also a fellow St. Joe River bow enthusiast and we wanted to shoot each other's bows, so we packed up the kid's and hit the course. It was a riot. Ryan's boys were both older than Aubrey by several years and shot very well for their age. I left Aubrey's bow back at the tent because she showed little interest in shooting and I was tired of carrying it around. It was a very pour decision on my part. Watching the Smit boys shoot made her want to shoot and finding out I didn't have it pushed her to the edge of trantrum. I'll never make that mistake again. In fact, put that in your "Daddy 101″ book fellas: Chapter 4 – Bring your kid's bow even when they say they don't want it. 
On our last target of the course, we met a gentleman by the name of Bob pulling a beautifully crested cedar from a turkey target. Bob was from Ohio, had been a member for years, and published several times in respectable archery and firearm magazines to boot. He was outspoken at the meeting and was obviously a committed man whose love for the bow ran deep. He recognized me as the newest council member, shook my hand, and we talked about the MLA and writing for awhile. "You'll be a good one…" he concluded. "It's good to have younger guys get involved and I'm sure you'll move the organization forward. Best of luck." That really meant a lot to me. I'd heard it a few times after the meeting on Saturday, but it meant a little bit more coming from him, though I'm not exactly sure why.
Sunday morning made the entire shoot worthwhile for me. I'd never camped at a traditional shoot and it was well worth it. It reminded me of something Floyd Wells (MLA Secretary) said at the Kalamazoo Expo:
"Nick, you've gotta camp. I tell people all the time…if you only come to these events to shoot for the day, you miss everything else. The real MLA experience happens around the campfire."
He was absolutely right. It is hard to beat longbows, campfire coffee, and conversation with friends, especially when you have your daughter by your side enjoying it with you. I left feeling completely satisfied with life and looking forward to the future.
When I think about that weekend, I thank God for the opportunity he bestowed and for the people that gave me encouragement when I needed it. I could've easily bowed out under the guise of "too busy family man". I could've taken the easier path and stayed home, depriving Aubrey of her first camping trip with her father. But I didn't. I opted to throw my hat in and become a torchbearer for a tremendous organization. I am a blessed man for that.
This is going to be a lot of fun.
Whether you are a fellow Michigander or someone who loves longbows and wants to meet like-minded people, I highly encourage you to visit  the Michigan Longbow Association websiteand check us out at the next event. While you're at it, I encourage to give Michigan Bowhunters and  Michigan Traditional Bowhunters a look as well. All three are wonderful organizations that cost very little to join. You'll be happy you did.